Today I will have a new experience of teaching a short class on Knotless Netting at the San Juan County Fair on San Juan Island.
http://www.sjcfair.org/events/2014-fair-events
I've never been to this fair before, so it will all be an adventure of taking the ferry, finding the shuttle to the fair, finding where to go in the fairgrounds, and then teaching an unknown number of students. We'll be netting over small, black rocks with waxed linen - ummm, because we can??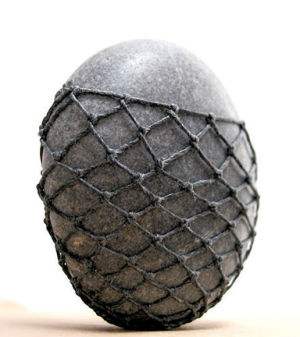 Knotless Netting is one form of looping. Long ago I took a class from Donna Kallner on looping, and her website holds an amazing collection of information and references:
http://donnakallnerfiberart.com/looping/looping-links/
So I'm all set for a "loopy" day!